North American Team Trials – The US Ladies
by linda on May 12th, 2009
The CBF and the USBF team trials to pick teams for Brazil are starting soon.  First up is the US Women who will start play on May 23rd and finish on May 28th in Sacramento California.  Seven teams will play a round robin on May 23rd and 24th to produce three qualifiers to the semi-finals.  They will be joined by "Dinkin" which has a bye.  The semi-final starts May 25th.
The 2009 United States Women's Bridge Championship will select the two US teams for the 2009 Venice Cup. The 2009 USWBC will be held in Sacramento, CA; it will start on May 23rd and  end on May 28th. Entries have now closed and there are 8 teams in the 2009 USWBC; seven of them will start in the Round Robin on May 23rd and 24th, the eighth (Dinkin) has a bye to the Semi-final, starting on May 25th. The Venice Cup will be held in Sao Paulo, Brazil; it will start August 29 and end September 12.  The details can be found at USBF Women's Team Trials.
The top three teams by seeding points are:
Sam Dinkin NPC (bye to semifinal)
Lynn Baker
Karen McCallum
Kerri Sanborn
Irina Levitina
Beth Palmer
Lynn Deas
Phyllis Fireman, Captain (bye to RR2)
Janice Seamon-Molson
Jill Meyers
Shannon Cappelletti
Tobi Sokolow
Jill Levin
Joann Glasson, Captain (bye to RR2)
Sue Weinstein
Rozanne Pollack
Lisa Berkowitz
Cheri Bjerkan
Stasha Cohen
But the rest of the teams look pretty good to me and most have a good chance of making the top two.
One of the teams (by no means the only one) which looks strong includes bloggist Stacy Jacobs http://stacyjacobs.com/.
Judi Radin, Captain
JoAnna Stansby
Mildred Breed
Stacy Jacobs
Pam Granovetter
Marinesa Letizia
It should be exciting and I will be covering it all the way on my blog.  Starting with the semifinals on May 25th there is an extensive vugraph schedule on BBO for this event: http://online.bridgebase.com/vugraph/schedule.php
If you go to the USBF site you will find they have team profiles of all the teams.  For example here is the Mancuso Team Profile.
I found an article on the Bridge Today website www.bridgetoday.com (this website has a lot of good stuff although much of it requires a paid membership) which described a deal played by Macuso in winning a spot to play for the US in Estoril Portugal a few years ago.
USA Women's Teams by Pamela Granovetter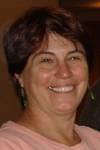 Renee Mancuso
The Sprung team (JoAnn Sprung, Kathy Sulgrove, Peggy Sutherlin, Karen Allison, Renee Mancuso, Pam Wittes) won a playoff against the Bernstein team (Cindy Bernstein, Patricia Griffin, Georgiana Gates, Sally Wheeler) to join the Narasimhan team as representatives of the USA in the world championships in Estoril, Portugal this October.
North-South Vulnerable; North Dealer
 

North
10 9 5
A J 5
K 10 9 8 4
10 7

 

West
Q 7 2
8 2
7 6 3
A K Q 8 6

 

East
8 6 4
K 10 7
A 5
J 4 3 2

 

South Mancuso
A K J 3
Q 9 6 3
Q J 2
9 5

 
| | | | |
| --- | --- | --- | --- |
| West | North | East | South |
|   | pass | pass | 1 |
| 2 | 2 | 3 | pass |
| pass | 3 | all pass |   |
Opening lead:
A
This hand was declared by Renee Mancuso, a member of the Sprung team. West cashed two high clubs and switched to a trump. East won the ace and returned the
6. South won, West following with the 7, and drew trump, ending in hand. Now declarer played a heart to the jack and king, and East returned the
8. South won the ace, West following low.
It was now up to declarer to do some arithmetic. Mancuso is an accountant in Los Angeles as well as a champion bridge player, so she had no problem counting West for at least three spades to the queen (assuming the opponents were honest with their carding), three trump, and five clubs.
Therefore, West was marked with only two hearts. Mancuso played a heart to the ace and cashed her last two trumps (throwing spades while East-West threw clubs). At trick 12 declarer played a heart to her nine, finessing East's ten. When it won, she scored up +110 and 5 imps for her team.