It was a good time
by linda on September 13th, 2009
In the end Ray and I really warmed up to Sao Paulo and I actually regret that we are going home today. Of course the weather was pretty good as it is all the time although we did have a couple of major tropical storms. (I have this tiny fear of lightning.) I knew that Brazil was one of the fastest growing economies in the world. One of the reasons things seem so expensive here is that the currency has risen 26% against the US dollar this year having doubled in value over the past few years. There were no bargains here but the food and entertainment was similar to prices in North America. You can see the effect of the rise in the economy in Sao Paulo which is a huge city which has grown very quickly, full of busy well dressed people and a lot of very tall buildings. It is now has eighteen million inhabitants, as big as some countries. I understand from the guide that life can be hard for some of the people. Taxes which are hidden in the prices of goods are very high and there is an enormous amount of corruption which means that the health care and schools run by the government are apparently completely hopeless, forcing everyone who can to buy their own.
Still Brazil which is a major oil producer (the big reason for its rapid economic growth) has a lot going for it. If the tournament had been in a hotel in the center of the city we would all have been much happier. There are a lot of wonderful restaurants, shopping and life there. We are in the suburbs a $50 cab ride from the center. Ray and I decided to buy some coffee as our souvenir of Brazil. The picture of part of Sao Paulo below gives you an idea of the size of the city, Vince Oddy and Barb Clinton (from the Canadian Venice Cup team) did a lot of touring and Vince tells me he especially loved the Iguassu Falls.
The "Falls"
We had dinner the other night with members of the Norwegian contingent including my hero Boye Brogeland who won the 2007 Bermuda Bowl.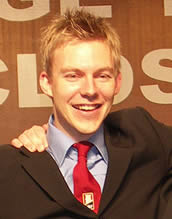 Last night was the victory banquet. I don't usually go to these since I am don't like banquets all that much so this was the first time since Rhodes that Ray and I attended. Unusually they started off the evening in the theatre where they did the prize giving. There was quite a cheer for the English Seniors who were popular winners although we were told how excited bridge players in Indonesia were about their team's third place finish. I was happy for the Chinese Women winners of the Venice Cup. I know it meant a lot to their country and there really was quite a huge cheer for them. I know that USA 1 was disappointed but as Karen McCallum put it when I chatted with her, they were never really in the final match. When I read Mark Horton's report of the Venice Cup Final (second stanza) it made me realize that a lot of mistakes were made by all the players. It must be difficult to keep up a high standard of play with the pressure and the fatigue.
Before dinner I met Shawn Quinn from the USA 2 Women's team that had come in fourth place. She knew of me. I don't know if she reads my blogs or not but I hope so because I wanted to tell her a few things if I don't see her at breakfast today. USA lost the third-fourth place 48-board match and came in fourth in the Venice Cup. When I talked to Shawn I tried to say something I believe: there should not be a 3-4 match. It is too hard to put your heart into a match after you just lost the semifinals and besides if you do have a match it really ought to be the same 96 boards as the finals. Shawn was not looking for sympathy. Yes, she wished the match was longer but she thought you should earn the medal. She was just a bit tearful and I realized how very hard it must have been to lose at that point. But what I really appreciated was her fighting spirit.
I want to see the same thing in the Canadians. The population of Norway as of June 1 was 4,825,500 (they seem to keep a very good count). In contrast the population of Canada is 33,600,000. More people than the whole population Norway live within a couple of hours drive of my front door. If they can put together winning teams we should be able to as well. We need to come with the same fighting spirit as Shawn Quinn. We need to have the same great programs that countries like Norway have. We need to come to win and be mad when we lose. We need to buy return tickets for the day after the Victory Banquet because we expect to be playing for the whole event. We need to train seriously with long term coaching. We need to form teams in a sensible way so that we are putting out our best team not the one that happened to win an event. If we have to beat Mexico to get a place in the Bermuda Bowl we need to take that match seriously. We cannot just come to compete and be nice guys — Canadians do that too often.
We need to stop making money or geography the excuse. I understand that it would be great to have professional teams but we can still do well anyway — although it would be nice to keep our best players in Canada. If anyone else wants to create, coach and fund a team that can win the Venice Cup, let me know. I will help in any way I can. Because as Susan Culham of our Venice Cup team told me last night "I don't want to play on a team that has no chance of a medal" and I think we should all think that way.